Featured article
Jan 27, 2023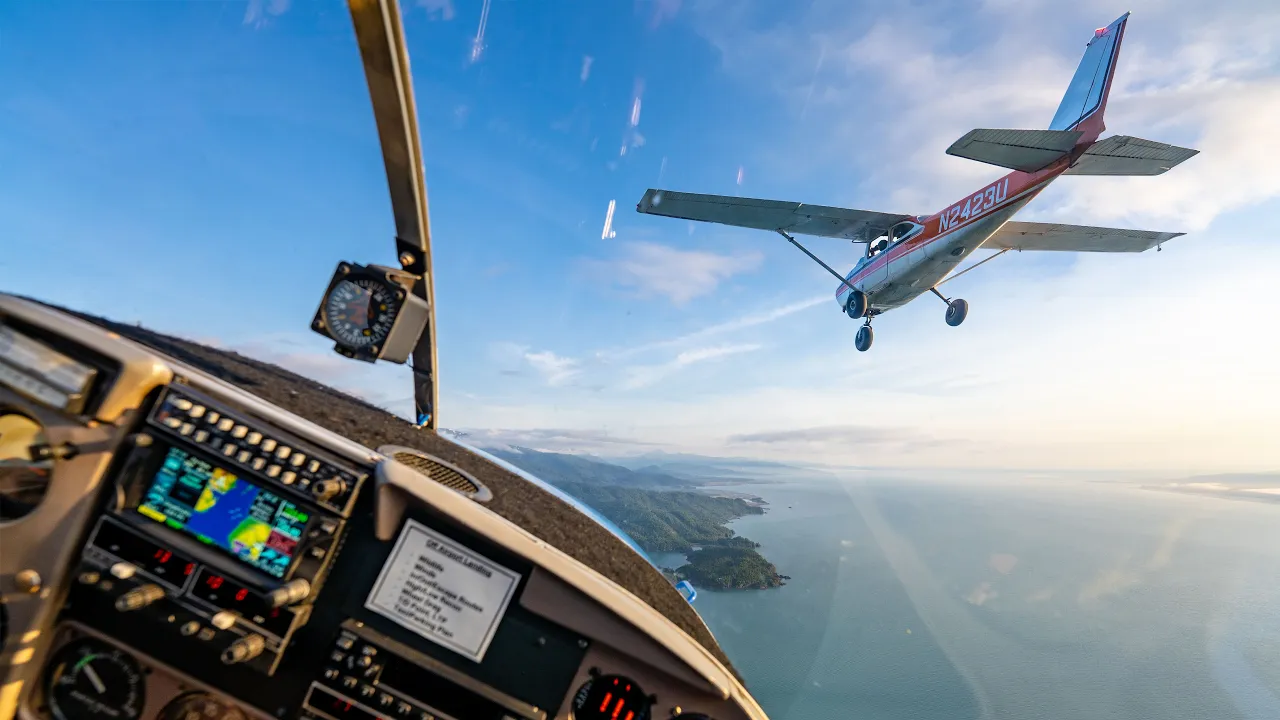 Welcome to our Alaska adventure, where we take to the skies with friends. We will capture the beauty of the Last Frontier from a unique perspective. We're flying in a Cessna 172 as the photo airplane, with the talented Deon Mitton behind the lens. Deon is a professional photographer with a keen eye for capturing the perfect shot and has a wealth of experience in air-to-air photography and formation flying.
Our pilot, Jordan, is no stranger to the skies. As a member of the Coast Guard, he flies helicopters and is based in Kodiak. He's a true bush pilot and backcountry pilot, with a wealth of experience in bush flying and flying in Alaska. He's bringing his wife Heather, who works for Life Flight, and their beloved dog Griff along for the ride. Nick, a 747 pilot, is also joining us on this adventure. Together, we're exploring the stunning mountains of Alaska, with glaciers, clouds, and beautiful sunset colors as our backdrop.
Each day is a new adventure as we search for the perfect shot and explore the incredible landscape. We're constantly in awe of the natural beauty that surrounds us. As always, we work to capture it in the best possible way using the angle of attack and other photography tips and ideas we've learned from our online ground school.
We'll take you on a journey through the skies, where you'll see the vast expanse of glaciers, the rugged terrain of the mountains, and the stunning colors of the sunset. Also, we will introduce you to the people who make it all possible, including Jordan, Heather, Nick, and Deon. You'll get to see their passion for flying and photography, and how they work together to capture the perfect shot. This flying vlog looks into the pilot life and airplanes, specifically the Cessna 172 Skyhawk and Cessna 180, which we'll be flying in this adventure.
We can't wait to share this incredible adventure with you and hope you'll join us on this once-in-a-lifetime experience. So please sit back, relax and enjoy the ride as we take you on a journey through the skies of Alaska. If you're a fan of Alaska aviation, flying in Alaska by private plane, or flying in an Alaska tv show, this is the perfect vlog for you! Join us as we experience the thrill of bush flying in Alaska and explore the backcountry from the air.
Want to be a pilot? Take online ground school and do check ride prep with us at Angle of Attack.
Chris Palmer has been in aviation training and creating educational content since 2006. As a career CFI (Certified Flight Instructor) and Master Aviation Educator* Chris trains dozens of pilots year round at his Alaska-based flight school, Angle of Attack HQ.
He's one of Youtube's leading Aviation Training Content Creators with over 120K subscribers. With a focus on developing and sharing new flight training methods, techniques, and tips. Chris founded Angle of Attack to offer a new, fresh and modern spin on aviation training. AOA does this by keeping the building on the wonderful knowledge passed down through the generations, married with new and modern media.
Stay Connected
Be the very first to get notified when we publish new flying videos, free lessons, and special offers on our courses.
YOUR FLYING JOURNEY STARTS HERE
ENROLL IN YOUR PRIVATE PILOT COURSES NOW